Portfolio
Profile
Yoshiaki Sakai – composer/ arranger
He is originally from Japan and he moved to Berlin since 2012.
He started the music first to play E-bass and contrabass; playing Soul, jazz and funk music.  He also began with music composition.
2012, he moved to Berlin. Now he studies contemporary music composition under the composer Kay Aliane Becker.
While doing that he works in many kinds of scenes.
Composition for contemporary dancers.
Composition for Games and Movies.
Live Music with analog machine Ambient music, House music.
His purpose as a musician is to make interesting sounds.
Skill
Music composition/ arrangement
Electronic music composition with MAX/MSP
Make music with DAW (CUBASE) for film, commercial music, electronic music
Music sheet making (Finale)
Hip-Hop Beat make
Sound design (Video game sounds, sound logo)
Play instruments (Piano, Bass, Guitar)
Works
Music for Video
Chivalry is Dead – Short Film ショートアニメCG
【Short Animation/ ショートアニメ】Nights Out
Sound design
効果音制作例/ sound design demo
Soundtracks/ background music
Fantasy
EastWest Symphonic Orchestra – Original composition A Star of Jotaka/よだかの星
Japanese style
Other soundtrack works
You can listen to other soundtracks work here.
Pop music
I composed the backing track.
Electronic Music
Slow tempo
Middle tempo
Hip-Hop Beats
These are like Hip-hop beats.
Liquid Beats Demo Reel – Katachi Beats/ 形ビーツ
Y-Bit Music – Hip Hop Beats #1(Demo reel)
Ambient music
Price List
The price depends on the music style, duration and how many instruments are used.
Please feel free to ask me any questions.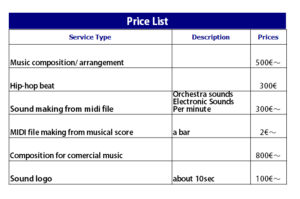 ---
Thank you so much to see and listen to my portfolio.
If you have some questions please feel free to ask me any questions.